Bow Brook work at Drakes Broughton to boost fish levels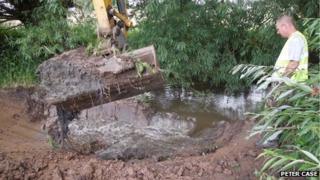 Work costing £15,000 has been carried out to boost the number of fish in a brook found to have sub-standard quality water levels.
Worcestershire Wildlife Trust has been working along Bow Brook from Redditch to Defford.
The trust said previous dredging of the brook had led to a silt bed, which smothered plant life and reduced fish numbers.
A fish refuge pool has been created at Drakes Broughton.
The trust received £15,000 from the Environment Agency for the work to be carried out, which is expected to finish next week.
Peter Case, wetlands officer for the trust, said: "Although it's understandable that landowners have needed to drain water from their land to make it more usable or productive, it's had a devastating long-term impact on the quality of the water.
"The brook failed [European] targets for water quality - there was a lack of fish and bottom-rooting plants and high levels of phosphates."