West Mercia Police scheme sees prisoners admit 66 burglaries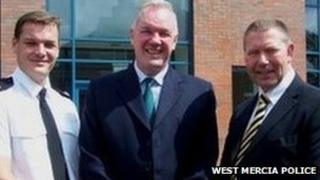 A rehabilitation scheme that gives prisoners the chance to confess to burglaries has been hailed a success by West Mercia Police.
It gives inmates the chance to confess to crimes they are not prosecuted for before making amends in a way their victim chooses, police said.
The scheme began in May and 44 inmates have admitted 66 burglaries and six other crimes.
One prisoner has accepted a job from the man whose business he burgled.
Grass Roots Live, an event promotion company in Worcester, was broken into in 2006 by the unnamed offender.
The firm's managing director, Charles Moyle, was informed of the confession by police and asked if he wanted to write to him, but he said he would "take it further and go and see him".
Officers from south Worcestershire work in prisons with convicted local offenders to try to stop them from getting involved in crime when they are released.