Worcester's Fort Royal Park monument work starts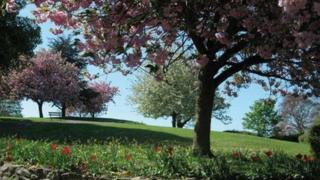 Work has started on a new monument as part of a £220,000 project to develop an area which played a key role in the Battle of Worcester in 1651.
Fort Royal was an important artillery position held by troops commanded by the future Charles II.
The city council is building the monumental plaque at Fort Royal Park, where the original fort stood during the Civil War.
It will be unveiled on 3 September along with three new play areas.
The capture of the fort by Parliamentary forces under Oliver Cromwell helped them defeat the Royalist forces.
Visitor hopes
The Battle of Worcester was the last action in the English Civil War.
Fort Royal was designated as a recreational area for play in 1915.
Matthew Lamb, cabinet member for "cleaner and greener city", said: "We hope this significant investment will help to attract many more local, national and international visitors to this wonderful park and raise awareness of the significant role that Worcester has played in British history."
The council failed to secure a bid for £1m of Heritage Lottery Fund money towards the project last year, but the sum of £220,000 had been earmarked before this bid, the council said.
The Battle of Worcester Society contributed £3,000 to pay for the plaque.