Hereford Greenway £3m foot and cycle bridge delivered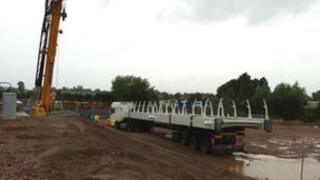 The final parts of a new £3m bridge over the River Wye in Hereford have been delivered.
The bridge forms part of the three-mile (5km) Greenway, linking the city centre to the Rotherwas Industrial Estate.
The foot and cycle bridge will be almost 100m (328ft) long and should open in October.
Graham Powell, chair of the council's Health and Wellbeing board, said it is funded from capital reserves and will not "take money from other services".
"I think when people see this and the number of people using it, it will look like really good value for money," he said.
Wye valley link
The sustainable transport charity, Sustrans, has also put £350,000 of lottery money into the project.
The Greenway will run from the eastern gate of Hereford Cathedral, through St James and Bartonsham, across the River Wye into the Rotherwas Industrial Estate, the council said.
Once across the river, the traffic free route will use the railway underpass into Rotherwas, following, for most part, the line of a dismantled railway.
The council said it plans to extend the route to Holme Lacy, thus opening up access to the Wye Valley.