Craig Nunn jailed for firing marble at cat's eye in Stourport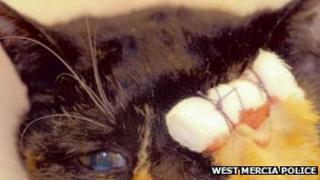 A man has been jailed for eight weeks for shooting a cat in the eye with a marble fired from a catapult.
Craig Nunn, 28, of Bullus Road, Stourport, admitted animal cruelty at Kidderminster Magistrates' Court after the attack was caught on CCTV.
He was also banned from owning cats for the next 10 years.
Misty, an 11-year-old tortoiseshell, survived but needed a £500 operation to remove her left eye. Her owners said they might seek compensation.
The attack happened at about 05:00 BST on 13 July in Hafren Way, Stourport, West Mercia Police said.
Misty's owner Terry Ruff, 47, said: "As well as the injury to her eye, she also received two fractures to her cheek. This has left her semi-paralysed down the side of her face, and she can't 'miaow' properly anymore. It is heartbreaking to see.
"As soon as we found her in the garden, we knew this wasn't a road accident or anything like that, just by the nature of her injuries."
'One of the family'
Mr Ruff trawled his home CCTV footage and saw Nunn firing a marble from a catapult directly at Misty, at close range as she sat on the garden wall.
"My stomach just turned when I saw it," Mr Ruff said.
"Misty is like one of our children, she is one of the family.
"Fortunately she wasn't killed, but I have still been left with a £500 bill because her eye had to be removed. We may consider seeking compensation for that in the civil courts."
Speaking after the case, PC Marc Ginder from West Mercia Police, said: "It is the worst animal cruelty case I have ever come across and I haven't seen anything as mindless as this.
"When we spoke to Mr Nunn, he agreed his actions were stupid but he didn't really have an excuse for it."