Kidderminster recycling plant fire caused by plant processes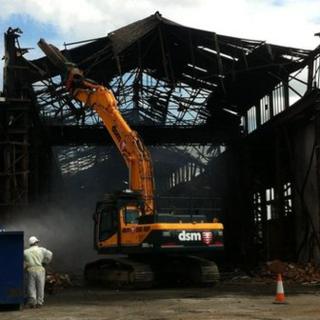 A fire at a recycling plant was caused by spontaneous combustion, fire bosses have said.
Up to 80 firefighters fought the blaze at Lawrence Recycling in Kidderminster after it broke out on 16 June.
Demolition of part of the site began on Thursday in an effort to finally extinguish the fire and could continue for several weeks.
Mark Preece from Hereford and Worcester Fire Service said "criminal activity" had been ruled out as a cause.
"The presumed cause is spontaneous combustion from the heat generated while the waste at the plant was being processed," said Mr Preece, the incident commander.
He added crews from from the fire service were regularly returning to the site to monitor "hotspots" that are still burning.
Billy Youngs, from the demolition contractors DSM, said the hotspots would slow down the process of pulling down two of the three fire-damaged bays.
"It's uncertain how long this will take but probably take several weeks because of the hotspots which are still spurting flames," said Mr Youngs.
'Like a tinderbox'
Simon Ellins, of The Recycling Association, which represents 65 recycling firms across the UK, said other recycling firm fires, like the one in Smethwick, West Midlands caused by a Chinese lantern, came as no surprise.
"It's a very high risk industry and insurance premiums have been increasing for our members over the last few years," he said.
"The recent fires in the West Midlands are not a surprise because the whole country is like a tinderbox with the hot weather.
"Our members are all highly regulated but we are working to encourage them to improve health and safety on the sites so that their premiums can come down."
Mr Ellins added only a few insurance firms were willing to offer cover to recycling firms.
Wyre Forest District Council said sections of smouldering waste were being removed and doused.
The authority said it would be monitoring the air quality in the area while the building was demolished.