Abandoned Worcester baby: Police release photos of bag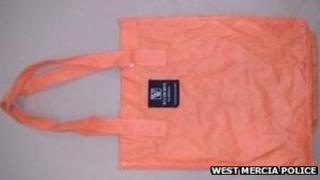 Pictures of the bag a newborn boy was found abandoned on a doorstep in have been released by officers attempting to track down his mother.
The baby was found wrapped in the orange hessian bag in the Lower Wick area of Worcester on Thursday morning.
The child, named Joseph by the nursing staff looking after him, remains at Worcestershire Royal Hospital.
The bag is being forensically tested and members of the public have said it is from South Africa, police said.
It has the words "Woolworth's - The Difference, A Community Based Project" written on it.
'Concealed pregnancy'
Det Ch Insp Stacey Williamson, from West Mercia Police, said the heath and welfare of Joseph's mother remains a priority.
Ms Williamson said: "We have seen a massive outpouring of concern and goodwill for Joseph and his mother.
"However, the number of people contacting us with significant information has not been great and I want to repeat our appeal for anyone who might have the slightest idea who Joseph's mother may be to get in touch.
"The mother may have concealed the pregnancy, so if anyone has any concerns about any women or girls who have been behaving unusually in recent days or weeks, please let us know.
"Also, if you know of anyone who may have a connection with South Africa and is due to give birth, please contact us.
"We are looking into the information passed to us that the bag could be from there and confirming whether this link is accurate."
Patti Paine, head of midwifery at the hospital, said Joseph is safe and well.
She added: "We expect that he will stay with us for a few days so that we can continue to care for him whilst we try and make contact with his mother."