Gullet Quarry candlelit vigil after second drowning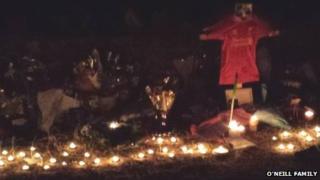 The family and friends of a 17-year-old have held a candlelit vigil at a disused quarry where he drowned.
Russell O'Neill died on 6 July swimming at Gullet Quarry, near Malvern, Worcestershire. Justas Juzenas, 22, died on Friday at the same site.
Mr O'Neill's family want websites listing open water swimming locations to make clear the quarry's dangers.
Family spokesman Craig Brown said: "If they are going to advertise things like this, put the actual facts up."
The family said about 300 people were at the candlelit vigil at the quarry, which lasted until midnight.
Mr O'Neill was a Liverpool FC fan, and the club's anthem You'll Never Walk Alone was played before a minute's silence.
Mr Brown said the family wanted better warning signs making it clear people had died swimming at the quarry.
'Not safe'
He said they were not calling for it closed down or fenced off completely.
The Malvern Hills Conservators have said they are putting up signs warning swimming there is "dangerous and illegal".
The conservators, who look after the hills, blocked the access route to the quarry over the weekend "to prevent any further tragic accidents".
Director Stephen Bound said the group would continue to seek advice about how to make the quarry safe.
"We have the Royal Society for the Prevention of Accidents water safety team coming to give us some advice and letting us know if there is anything else we could be doing to protect people," he added.
The MP for the area, Bill Wiggin, said open water swimming websites had a responsibility to ensure they were not advertising places to swim that are "not safe".
"I think this is one of the challenges that people who are advertising swimming either in the rivers or old quarries have got to address," he said.