Croome Court London Arch work starts after £10,000 donation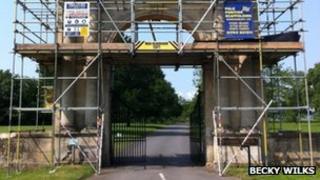 Work has begun to restore an 18th Century archway at a Worcestershire stately home after a £10,000 donation from a member of the public.
The London Arch stands at the entrance to Croome Court near Pershore.
The arch was damaged by water getting into the structure, said Croome's building surveyor Shaun Wilkes.
"We've begun repairs to the central masonry and lead work to prevent this massive structure from deterioration," he added.
The arch was designed by Robert Adam in 1770s and is decorated with rams' heads.
The National Trust said the arch got its name because carriages carrying guests from London would use the driveway after passing through Pershore.
The Grade I listed Croome Court was bought in 2011 by the National Trust, English Heritage, Malvern Hills District Council and the Croome Heritage Trust.
The trust said it hoped to continue the work to save the London Arch and aimed to fully restore the structure over the next five years at a cost of £40,000.