Imie Harrison died in canal rescue at Wolverley Lock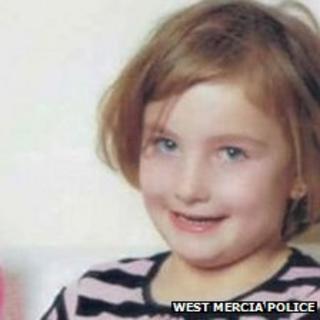 A six-year-old girl died in a "tragic" accident as she slipped into a canal while trying to rescue her friends, a coroner has ruled.
Imie Harrison fell into the canal near Wolverley Court Lock in Worcestershire on 19 March after slipping on mud on the bank.
Two friends had already fallen in while trying to fish out a lost shoe, the inquest at Worcestershire Coroners Court heard, and Imie tried to help.
The other children escaped unharmed.
County coroner Geraint Williams said it was a "tragic" case of accidental death.
Imie, her twin brother CJ and friends Jack Kennedy and his sister Lucy had walked across a park to the canal a mile from Imie's home in Kidderminster.
Jack told police in an interview that his sister's shoe had fallen off because it was too big for her.
He said: "CJ got the shoe and threw it in the water.
"Imie was saying nasty things to CJ because of the shoe. I leaned in to get the shoe but slipped and fell in."
'Floating in the water'
He said Lucy had tried to pull him out but she also fell in.
In the police interview, Jack said: "Imie tried to help but she slipped and fell on the mud. Imie fell in."
He said CJ had helped Jack, who had swum to safety, pull Lucy out but as they looked back across the canal, they saw Imie "floating in the water with her face down".
An off-duty nurse, Denise Kristic, told the inquest she was walking her dog across nearby fields with her husband when she spotted CJ Harrison running through woods near the canal.
He was heading home to tell his mother what had happened.
Minutes later she saw Jack and Lucy Kennedy emerge from the woods, soaking wet.
Mrs Kristic asked what had happened and put her coat around Jack and started walking with the children towards their home, alerting a police officer on the way that another girl was still in the water.
Christopher Owen, the partner of Imie's elder sister, had been called to the scene and immediately jumped in the water.
He pulled Imie's lifeless body to the side of the canal where two police officers pulled her out and began trying to resuscitate her but were unable to. She was confirmed dead at Birmingham Children's Hospital.
A post-mortem examination found Imie's cause of death was drowning.
'Happy, bubbly girl'
Mr Williams said: "It paints a tragic picture."
He praised the children for trying to help each other and said the "character of the individuals concerned speaks loudly that they tried to help each other to get out of difficulty".
Imie's mother Lisa Harrison told the court she had never known her daughter to stray as far from home as that day.
She said she received a text message from her 21-year-old daughter telling her to "get home quickly, they're saying Imie is in the canal".
Mrs Harrison said she got to the canal lock to find ambulances and police, and "had a panic attack". When she got to the hospital doctors told her Imie had already died.
She said her daughter was a "happy, bubbly" girl who "loved horses and school".
She could be naughty, she added, and was "a typical child".