Firefighters could be at Kidderminster fire site for days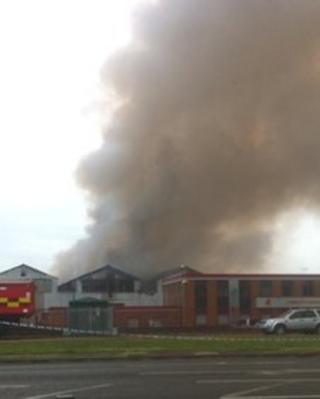 Crews could remain at the scene of a fire at a Kidderminster recycling plant for days.
At the peak of the blaze at Lawrence Recycling on the Vale Industrial Estate on Sunday evening, 80 firefighters tackled the inferno.
Smoke from the fire at the site - used to store paper and plastics before they are reprocessed for recycling - could be seen for miles around.
The fire was brought under control earlier.
But Group Commander Richard Jordan, from the fire service, said firefighters could be on site for days.
Earlier he said the building had suffered roof damage but was "structurally intact".
The cause of the fire was still being investigated.
Dave Throup, of the Environment Agency, said: "One of the problems is it's going to take an awful lot of water to fight that fire.
"We can't keep all that water on site so we need to be very careful in terms of where it's going into the local environment.
"We've got officers out at the moment monitoring the local water courses just making sure that fire water isn't getting in because it does contain an awful lot of nasty toxins."
He said firefighters were using water drawn from a local canal and re-using the water coming off the site.
At one point the huge column of smoke thrown up by the blaze could be seen up to 30 miles away according to West Midlands residents.
In December, last year, 80 firefighters tackled another blaze at the site after flames broke out in a building where papers and plastics are stored before being processed.