Leominster Primary School: £11m school plan approved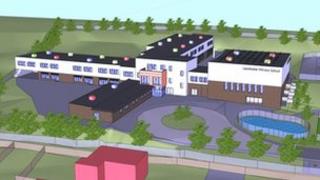 A new £11m primary school to replace "the worst buildings" in Herefordshire has been approved by the council.
Leominster Infant and Junior Schools would merge to move into the new building in September 2014, Herefordshire Council said.
Councillor Jeremy Millar said the old school buildings would be demolished.
He said: "Those current [infant and junior] school buildings are the worst in the county but this new school will be among the best."
The original plans were deferred by Herefordshire Council last year over concerns about how energy efficient the building would be.
It said the new school would be "energy efficient" with solar panels and heating and water systems designed to reduce energy consumption.