Herefordshire Council jobs under threat as £23m cuts approved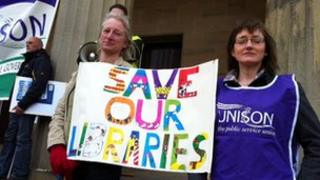 Almost 300 jobs could be lost at a council after cuts of £23m were approved.
Herefordshire Council has made budget reductions of £21.1m over the last two years. It has agreed to make the latest cuts over the next two years.
Plans to cut up to 120 jobs this year had already been announced by the authority.
Unison has called the planned cuts a "jobs massacre" and protestors were outside the council offices on Friday.
Maintain services
Steve Akers, from the union, said it would be working with the council to try and ensure that as many of the 290 jobs under threat are lost by "voluntary means".
The union blames the government's austerity programme.
The Conservative-led authority employs just over 1,000 people and said last month it had written to all staff informing them about the planned cuts.
Council leader, Tony Johnson, said the council will now be working out how it can stay within its budget and maintain "as many services as we can".
"We must invest in economic development , we must provide more jobs [and] a bigger income base for the council to get us less reliant on central government funding," he said.