Campaigners protest against Herefordshire Council cuts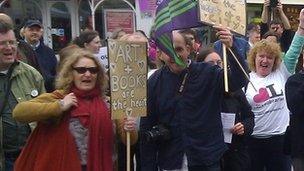 More than 60 people have held a protest against plans by Herefordshire Council to cut budgets and jobs.
The proposals, including the loss of 300 jobs and the closure of libraries and museums, will be discussed by the council at a meeting on Friday.
The authority said it needed to save £32.2m over the next three years, owing to reductions in government funding.
The Unison union, which organised the Hereford protest, said the cuts would "decimate county services."
David Stevens from the union said: "The council are looking to make 300 people redundant within 18 months but they've already said they made need to make another 100 redundant even after that.
"By the time we get to 2015, I don't know quite what we'll see left of Herefordshire Council as an organisation or what services it will actually be involved in delivering."
The authority plans to make cuts in corporate services, children's services, adult services and culture and leisure.
Mr Stevens said more than 1,000 people had signed a petition against the cuts in the two hours the protest lasted.
On Wednesday, 80% of Unison's members at the council voted in favour of industrial action.
Related Internet Links
The BBC is not responsible for the content of external sites.