Helen Mann inquest: Head 'took overdose'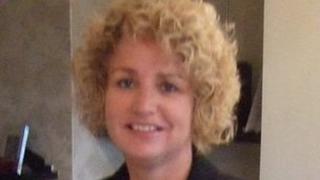 An inquest has heard a head teacher found hanged at her school in Worcestershire took an overdose days before her death.
Helen Mann, 43, was discovered at Sytchampton First School near Stourport-on-Severn on 5 November.
She had been head at the school for less than six months.
The inquest heard Mrs Mann had taken an overdose following a fitness to work interview after being off for four weeks with work-related stress.
Deputy coroner Marguerite Elcock heard her employer, Worcestershire County Council, was not aware of the overdose until after her death.
'Apprehensive' about return
The inquest in Stourport heard a statement from an accident and emergency doctor who treated Mrs Mann after she took the sleeping tablets.
Philip Mann, her husband, told the hearing that teaching was his wife's life, but said that when she returned from her first day at Sytchampton, she said: "Why the hell did you let me take this job?"
Mr Mann also said his wife was "apprehensive" about going back to the school after her stress-related leave.
On the evening before her death Mr Mann said his wife had asked him to hug her and they had sat together on the sofa for a number of hours.
Describing the morning of her death, he said that as his wife was leaving the house she ran back, saying she had forgotten to kiss one of her two sons goodbye.
He told the inquest this was something he only realised was significant a few days later.
On Monday the court was told Mrs Mann was concerned the school would lose its "outstanding" rating from Ofsted.