Extended Hereford skate park officially opened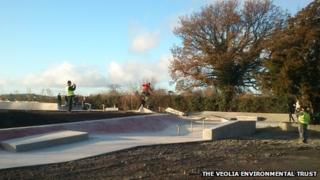 An extended £420,000 skate park in Hereford has been officially opened by the city's mayor.
Fifty young people approached the city and county councils about the need for a skate park in 2004 and the first phase was finished in March 2009.
The third and final phase, an extension costing £120,000, has increased the surface area at the Holmer Road site by more than 40% to 2,056 sq m.
The mayor, Brian Wilcox, attended a ceremony at 14:30 BST.