Herefordshire apple farmers to plant 350,000 trees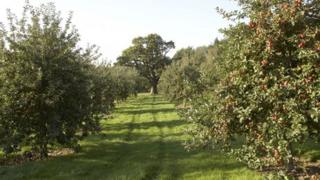 About 1,000 acres (404 hectares) of new orchards are to be planted in Herefordshire as part of a £2.5m investment in the local cider industry.
Birmingham-based Aston Manor said it had agreed 25-year contracts with 25 growers in the Malvern area.
The company said some 350,000 extra trees would be planted after it doubled cider sales in the past three years.
It said Herefordshire growers had been targeted due to the quality of apple crops.
The firm is already supplied by 300 acres of orchards in Malvern and the new planting is expected to take a few years to complete.