Droitwich Spa brine baths: Campaigners to fund reopening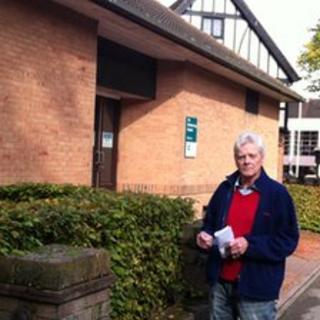 Campaigners hoping to reopen the brine baths in Droitwich Spa are launching a funding project to raise £1m.
The baths, owned by the private BMI Droitwich Spa Hospital, have been closed since 2009 owing to problems with the upkeep of the building.
William Moy, from Save Our Brine Baths (SOBBS), said: "We must try and get in there and run it as it was before."
The hospital said it will continue to work to find a way to keep the brine baths in Droitwich.
Keith Cunningham, executive director of BMI Droitwich Spa Hospital, said: "We will work with the local authority, the campaigners and others to find a solution to maintaining brine baths in Droitwich.
"Whether that entails a scheme funded by public money, the SOBBS group or investment by commercial backers."
SOBBS have called in experts to assess the exact cost of refurbishing the facility which Mr Moy said could range from £1.2m to £3m.
Mr Moy, who leads a team of 40 volunteers aiming to reopen the baths, said: "We've had the canals reopened last year, the we've got the lido and if the baths are reopened the tourist boom is going to increase.
"I can see the brine baths being in more and more demand."
Droitwich Spa became the only salt water spa town in Britain when John Corbett created the first spa, St Andrew's Brine Baths, in 1887 as part of the Raven Hotel.
The first baths opened in the 1830s, taking advantage of the natural brine springs that have been used in the town since Roman times.
Sarah Davies, of the town's heritage centre, said people enquire about the brine baths "every day".
"It would mean a lot to Droitwich, people ring up and ask and some people come to the town only to find they've closed," she said.
"It doesn't seem impossible that it will happen and I really hope [Sobbs] are successful. To be a 'spa town' with out a spa is really a little sad."