Hereford lime tree campaigners stage a knitted protest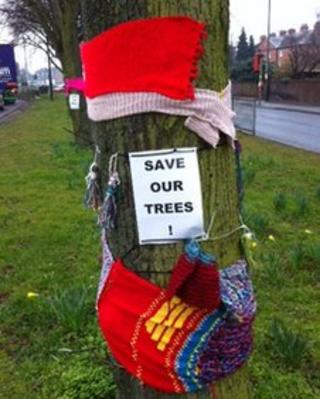 A row of 14 trees in Hereford have been covered with knitting by protestors opposing plans to fell them.
The lime trees on Edgar Street are threatened by Highways Agency plans to add an extra lane to a roundabout.
Protestor and local councillor Liz Chave said the trees provide a screen and improve air quality.
A Highways Agency spokesman said it will work with the council to ensure the plans include "mitigation measures" including replacement tree planting.
Mrs Chave said: "Mature trees are going to do a better job in dealing with the air quality than new trees will, and we want them here for the screening as well."
The agency said the planned work is part of a government scheme targeting known "pinch points" for road congestion.