Funeral director 'disposed of wife's body'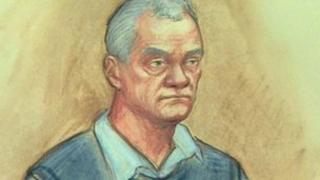 A funeral director murdered his wife and disposed of the body while he was having an affair, a court has heard.
John Taylor, 61, denies killing his wife, Alethea, 63, who was last seen in Orleton, Herefordshire, last year.
The prosecution at Worcester Crown Court claim he killed her and disposed of her body on 18 or 19 January 2012.
Prosecuting, Michael Burrows said Mr Taylor was "keen to spread around" the idea she was "in some way, losing her mind" to cover up for her disappearing.
In the summer of 2011 Mr Taylor began an affair with Alison Dearden, from nearby Brimfield, it was said.
Ruled out
Mr Burrows said Mr Taylor had bought a house in Leominster and was renovating it, with the intention of moving in with his mistress.
Mrs Taylor wrote that her husband had become "besotted" with "a certain little widow".
She also said at times he would become "withdrawn or angry" whenever she tried to speak about their marriage, the court heard.
The court heard that Mrs Taylor's blood had been found on the couple's bedding and the rear seats of her husband's car.
The prosecutor said Mr Taylor was spotted vacuuming the boot of his vehicle, despite telling police he was somewhere else at the time.
Mr Taylor claimed the blood was from a nosebleed.
But Mr Burrows said a forensic scientist had ruled out the possibility the blood had dripped and was an indication of "contact" marks where the skin had been touching the sheets.
Mr Taylor told police he had found his wife "crying and disorientated" in a lane, but Mr Burrows said, despite concerns about her mental state, Mr Taylor had never taken his wife to see a doctor.
Mr Taylor said when he left his wife on the morning of 19 January, she was alive and well.
Mr Burrows said: "Mr Taylor says she simply disappeared - and that if she is dead, he didn't kill her."
He said the only possessions missing were Mrs Taylor's night-dress, while her glasses, a bracelet, passport, and bank cards all remained in the house.
The court heard Mr Taylor had claimed a pair of his wife's black shoes were also missing and a set of front door keys, although they were pictured at the house in a police photograph taken at the time Mrs Taylor disappeared.
The trial continues.