New Worcester rape centre opens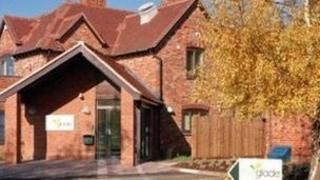 A self-referral service for victims of rape and sexual abuse has been launched in Worcestershire.
The Glade Sexual Assault Referral Centre (SARC) offers services of evidence gathering and support with a 24-hour victim helpline.
It can store evidence for seven years, giving victims time to decide if they want to report a crime.
The centre, in Bransford near Worcester, is jointly funded by West Mercia Police and the NHS.
Clinical manager Emma Durmaz said: "Not a lot of people are sure what they want to do when something so traumatic has happened to them.
"We can take evidence samples to freeze so if the victim decides later on to go to the police we have evidence which we can then submit.
"It offers them a choice and it gives them time to have a think about what their options are but they're still able to access a forensic examination if appropriate as well as the aftercare such as screening for sexually transmitted infections, morning after pill, counselling and all those things."
She said there was no pressure to report what had happened.
'More convictions'
Det Supt Amanda Blakeman, from West Mercia Police, said: "Before this service was offered we would have a situation where people weren't coming forward at all.
"We've got to work with our victims to make sure we get the best outcome at court and the crisis workers and the support that's offered at the sexual assault centre is the best way of doing that.
"I would hope it will lead to more convictions... and that would be a really good thing in terms of identifying and securing convictions against people who commit these kinds of crimes."
West Mercia Police recorded 201 offences of rape on women over the age of 16 between April 2012 and February 2013.
According to the Crime Survey for England and Wales about 404,000 women and 72,000 men are victims of a sexual offence on average per year.