Worcestershire flood barriers down as River Severn falls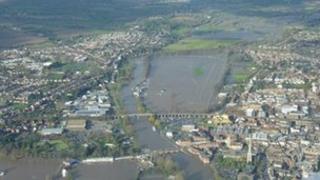 Flood defences are being removed along the River Severn in Worcestershire as river levels slowly fall.
The Environment Agency said barriers in Bewdley at Beales Corner had been removed, with those at Severnside North due to be down by Sunday.
Five flood warnings remain in the county, but Dave Throup from the agency said River Severn levels were falling "very slowly".
He said river levels were expected to return to normal next week.
Flood warnings remain in place in South Worcester, Clifton and Severn Stoke, Callow End and Kempsey, and two at Upton-upon-Severn, where flood gates are still closed.
Defences were removed at Severnside South in Bewdley on Friday.
The Met Office said little rain was expected across the county over the next few days, although showers could become heavier through the week.