Anger at delays to Lingen bridge building work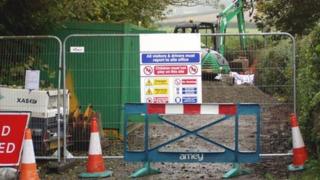 People living in a Herefordshire village have said they feel stranded after the building of a new road bridge was delayed.
The bridge connecting Lingen to Deerfold was meant to open in December.
Builder Amey said work had been affected by the wet and freezing weather which had delayed the laying of concrete at the site.
Residents living on one side of the village said they had to make a 20-mile detour to get to the other side.
Farmer Steve Deakin said it had cost him £2,000 extra to harvest his crops because he had to take his machinery along the detour to reach fields.
Moving sheep
He said: "We keep assuming the bridge is going to be done shortly, but people are struggling. The village pub said people are not able to come any more.
"We're having to use the road a lot to move our sheep and it's extremely inconvenient and for people just going to school - it's a long way round, it really does make quite a difference."
Work on the bridge started in July after it was damaged by flood water.
Sue Spence, who lives near the bridge, said people were left without milk, papers and post deliveries for three days when another section of road was shut for repairs last week.
She said: "The alternative route was never intended for the amount of traffic it has been getting and it's been dangerous in the winter weather.
"The local community feels stranded and is outraged at the inconvenience and expense."
Amey, which is doing the building work on behalf of Herefordshire Council, said it understood residents' frustrations but said its workers were "doing everything they can to get the bridge reopened as quickly as possible".
It has estimated the bridge will now open on 22 February.