FirstGroup to sell Worcestershire bus operations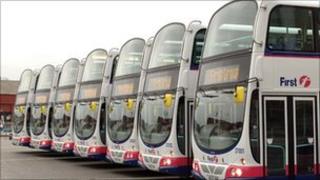 Transport firm FirstGroup is to sell its bus operations in Worcestershire.
It confirmed on Thursday the sale of services in Kidderminster and Redditch for £1.5m. The move follows the recent sale of operations in Birkenhead and Chester for £4.5m.
In November, the company said half-year bus profits were down £20m to £39m compared to the same period last year.
FirstGroup, which was due to takeover the West Coast Mainline, runs about 8,000 buses in 40 UK towns and cities.
The company beat Virgin Trains to win the 13-year franchise but the decision to award it to them was scrapped in October due to errors by Department for Transport staff in the bidding process.
In a statement about its current trading situation, FirstGroup said it was seeing "positive signs".
"While there remains considerable work to be done across our UK bus division, we are encouraged by early positive signs in some of our markets."