River Severn seal 'Keith' to be saved from shooting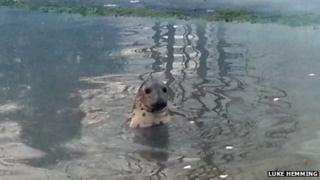 A seal spotted upstream on the River Severn in Worcestershire will not be shot, the Angling Trust has agreed.
A number of sightings have been made of what is believed to be the same grey seal, named Keith by locals, since November last year.
The trust had applied for a licence to shoot the animal because it was affecting fish stocks in the river.
But an agreement has been reached with the British Divers Marine Life Rescue (BDMLR) to relocate the mammal at sea.
Following floods at the back end of 2012 there have been sightings of a seal in Worcester, Bewdley and at the marina in Stourport-on-Severn, about 50 miles from the sea, although it is unclear if it is the same animal.
'Bewildered'
Members of the Angling Trust had been so concerned by what they called "ongoing and severe damage to a freshwater fishery by a marine animal" that they applied to Natural England for permission to shoot the seal.
The trust's chief executive, Mark Lloyd, said: "Anglers have only ever sought to protect the vitally important River Severn fishery and really didn't want to see any harm coming to the seal.
"We are looking forward to our new partnership with the BDMLR and to work with the angling community to rescue 'Keith', who must be very bewildered with all the media attention and crowds."
The chairman of the BDMLR, Alan Knight, said "common sense" had prevailed after the two organisations decided to work together to "get a sensible resolution to the problem".
Mr Knight said: "The main thing is to keep an eye out.
"Anglers are on the river bank all the time and we can ask them to identify where the animal is.
"We don't want to make that public because we don't want lots of people going there and causing a lot of disturbance for the animal."
Mr Knight said they were willing to attempt a rescue but believed the seal would actually make its way down the river.
He conceded that coaxing the mammal downstream may require the help of a sonic device called a scrammer.
"We would take advice and maybe site this up river somewhere," Mr Knight added.
"The scrammer could be turned on and seals wouldn't want to go through this curtain of sound which I think would be a really good option."