Herefordshire and Worcestershire ice warning for drivers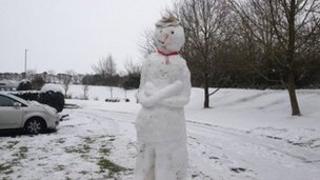 Drivers have been warned about ice and snow on the roads of Herefordshire and Worcestershire as schools reopened after several days of wintry weather.
Both county councils said their gritting teams had been out overnight and from early in the morning.
More than 50 schools were shut on Wednesday but none has so far been reported for Thursday.
A warning for severe weather remained in place, with temperatures only reaching 1C (33F), the Met Office said.
Building snowmen could help prevent a big thaw causing more flooding in the two counties, a flood advice group has said.
The Flood Protection Association said compacted snow and ice would melt more slowly than snow on the ground.
Mary Dhonau, from Worcester, who is a director of the association, said it would mean there would be less surface water on roads and pavements after a thaw.
She said: "We would actually slow down the melt and stop the water going into the drains and they wouldn't become overwhelmed.
"We have so much rain and the ground is absolutely saturated so people have got to be prepared for flooding."
A spokesman for the Environment Agency said: "While building snowmen is great fun, sadly it is unlikely to make a significant difference to the overall rate at which the snow melts."