Worcestershire and Herefordshire sub zero weather continues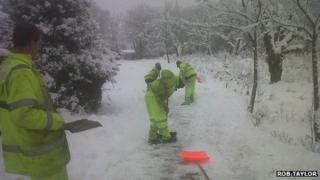 Temperatures could drop to -4C (25F) overnight with the snow stopping after midnight, according to Worcestershire County Council.
The council said its gritter fleet will continue to treat icy roads.
More than 50 schools in Herefordshire and Worcestershire closed following overnight snow while others managed to open later in the day.
Forecasters said about 7cm (3in) of fresh snow had fallen across the two counties since Tuesday evening.
Both county councils said gritters were out overnight although some bus services are still affected.
Some schools have been able to open after help from local firms.
Far Forest First School near Bewdley, Worcestershire, was able to open at 10:00 GMT after five staff from R.S. Taylor Services used a tractor plough and snow shovels to help clear the paths to the building.
North Bromsgrove High School and Lickey Hills Primary School were among other schools that opened later than normal.
'Rural areas suffering'
The Met Office said a yellow warning for severe weather remained in place but the snow would ease off throughout the day.
West Midlands Ambulance Service said a gritting lorry and a fuel tanker were involved in a collision on the M42 in Worcestershire.
The crash happened on the northbound carriageway, just after Junction 3 for Portway at 01:40 GMT
Both vehicles suffered some damage and the tanker was empty.
Two men in the gritter and one from the tanker were assessed by ambulance staff but did not require hospital treatment, the service said.
Both Herefordshire and Worcestershire county councils said their gritters had been out treating main routes, but some side roads remained treacherous.
John Fraser, from Worcestershire County Council, said: "It's the more remote and rural areas which are suffering.
"We have to, of course, focus on our priority routes and we would ask drivers to take care if they have to travel."
The authority said day care services were open as normal, and transport would be provided.
Stourport Mobile Library would not be going out owing to continuing severe weather conditions, the council said.
Hereford Livestock Market said it was open as normal.
The organisers of Bromyard Country Market said the event in the town's public hall on Thursday would be cancelled, but the "fish man" would still be travelling down from Grimsby to serve customers.