Herefordshire and Worcestershire face fresh snow falls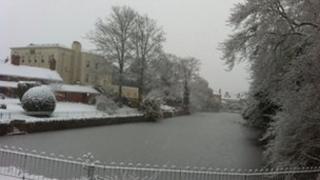 Motorists in Herefordshire are being warned to expect more snow as the Met Office issued a yellow weather warning.
Herefordshire Council said it is expecting up to 5cm (2in) at lower levels and up to 10cm (4in) on the hills.
Worcestershire County Council's highways department said it has used 4,000 tons of grit and would continue to treat roads that need attention.
Four schools were closed or partially closed in the two counties on Tuesday.
Herefordshire Council said its gritters had been out more than 150 times since the early hours of Friday, using more than 800 tonnes of salt.
Website upgrade
It said it expected to have a further 2,500 tons of salt by next week.
The council said the snowfall following on from recent flooding had led to a lot of road damage and potholes across the county.
An average of 50 reports of highway defects a day are being reported and more than 200 were repaired last month, a spokesperson said.
Graham Powell from the council said: "We doing our best to keep on top of the growing number of repairs that need to be done.
"The immediate safety of the travelling public remains our top priority and we will do all we can to carry out the safety repair work required as quickly as possible."
Worcestershire County Council has said it will be upgrading its computer equipment on Wednesday evening to "improve access" and give "greater capacity".
The council issued an apology after its website crashed on Friday morning due to the number of people trying to access it to find out if schools were closed.