Snow disrupts Worcestershire and Herefordshire travel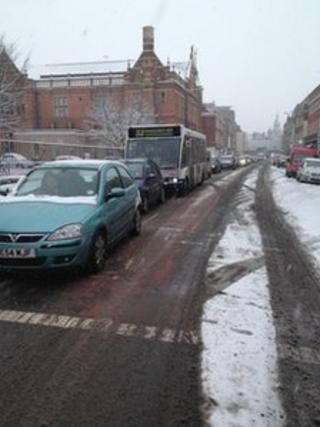 Heavy snow has caused problems for drivers and public transport in Herefordshire and Worcestershire.
The Met Office has issued a yellow warning of icy conditions across the counties with temperatures falling well below freezing.
Drivers have reported hazardous conditions on some roads, including the A456 Park Butts Ringway.
First bus said some of its services across the two counties had been cancelled or disrupted.
Hereford United's Blue Square Bet Premier game at Forest Green Rovers on Tuesday has been called off.
Susan Howard, from Stourport, said conditions on the A456 through Worcestershire were "horrendous" and her journey had taken "twice as long as normal."
She said: "You can see that the road hasn't been gritted and it beggars belief because it's a main route from Kidderminster to Birmingham.
"Traffic couldn't go above 30 miles an hour because it was so dangerous, you could feel yourself skidding, it was terrible."
Local authorities said gritters had been out but ice was likely on smaller, untreated roads.
'Priority road focus'
Worcestershire County Council highways manager Jon Fraser said more snow had fallen in the north of the county than they had anticipated.
He said: "The gritters were out and about round the clock over the weekend but we would urge drivers to go carefully.
"We have focused on priority roads first and with our partner district councils we have had teams out gritting on pavements and in town centres."
In Bilford Avenue, Worcester, residents said they had joined together to buy salt and keep the roads and paths clear.
Local people also helped to clear ice from Grange Lane in Worcester after cars were seen slipping on the road surface.
London Midland and Chiltern rail services said there were delays on services between Worcester Shrub Hill and Stratford, and between Dorridge and Stourbridge Junction, due to a broken down train at the Hawthorns.
'Have fun safely'
More than 50 schools were closed or partially closed in Herefordshire and Worcestershire after further snow fell.
An eight-year-old child was taken to Worcester Hospital with a back injury after falling from a sledge near the Midlands hotel in Malvern on Sunday.
West Midlands Ambulance Service advised people to "take extra care".
A spokesman for the ambulance service said: "We would encourage people to just take a second to think about where they are sledging and to have fun safely."
The YMCA in Worcester has called on councils to do more to protect homeless people as the cold weather continues.
Temperatures are expected to drop to -4C (24.8F) overnight.
Manager Angie Rich said the centre was full and desperately trying to keep rough sleepers off the streets.