Vicar holds service in Craswell home after snow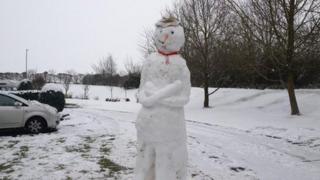 A vicar has held a church service in his home because of the snowy conditions in a Herefordshire village.
The Reverend Nicholas Lowton said Craswell Church was "pretty inaccessible" as the roads were "terrible" even when conditions were clear and dry.
Mr Lowton held a Sunday holy communion service at his Craswell home.
Parts of the county and Worcestershire had a 60 to 80% chance of light snow on Sunday evening, the Met Office said.
The office has also issued a yellow warning of snow and ice for most of the UK and advised traffic conditions may be difficult and dangerous.
Mr Lowton, who is also the vicar of Newton St Margarets, and Llanthony, said Craswell was "very, very snowy".
"I mean on one level it's delightful if you don't have to go anywhere, which you can't really," he said.
Parish teams
"My parish covers 50 square miles of anything other than A and B roads and they are pretty impossible."
An NHS blood donor session at Lyttard Grange Community Centre, Worcester, has closed early due to the conditions.
A spokeswoman said although the afternoon event had been cancelled, most donor sessions were being held despite the weather so people should keep their appointments.
Councils in the two counties say gritting teams have been out in force over the weekend.
Worcestershire County Council said it was also working with district and parish councils to grit pavements.
And a community gritting scheme in Herefordshire has helped to keep many isolated villages moving.
The council and Amey supply grit to community groups who then store it through the year and spread it themselves when it is needed.
George Day, a parish councillor and the village lengthsman in Much Cowarne, said he also gritted parts of neighbouring parishes when needed.
Mr Day said grit in tonne bags was delivered to his parish in November.