West Mercia PCC Bill Longmore 'will not resign' from office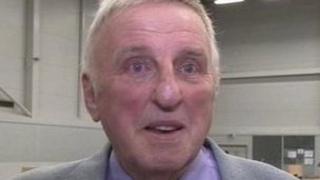 The police and crime commissioner (PCC) for West Mercia has said he will not resign, despite calls from councillors for him to leave his post.
Worcestershire County Council's Labour group wants Bill Longmore to quit after he went against advice to appoint his former campaign manager as his deputy.
The party said it would press for a motion of no confidence at a council meeting next Thursday.
Mr Longmore said the calls were "politically motivated".
The Labour group said it was making the motion after Mr Longmore went against the PCC panel to appoint Barry Sheldon to the £50,000-a-year deputy role.
The panel said he had not followed an "open and transparent" process in giving the job to Mr Sheldon.
'Give us a chance'
Mr Longmore, an Independent, said he had selected him "because I knew Barry's capabilities".
"This whole campaign by the Labour group is to discredit me and if people think I'm going to resign, I'm not, I've got a job to do.
"As a team, we'll make a good job of it and all I say to the people of West Mercia is give us a chance and we will do what we intended to do, which is create an efficient police force."
He said Mr Sheldon had no intention of resigning either.
The council does not have the power to force either man to resign, even if the motion is backed by a majority of councillors.