The Big Chill: 'No plans' for festival to return in 2013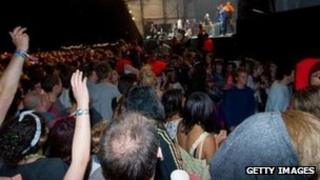 The organisers of The Big Chill music festival have confirmed that there are "no plans" for the event to be staged in 2013.
The 2012 festival was cancelled because it clashed with the Olympics.
Festival Republic have told the BBC there are "currently no plans for The Big Chill to return in 2013".
The festival, which attracted crowds of 40,000, has been staged since 2002 in the grounds of Eastnor Castle in Ledbury, Herefordshire.
It was founded in 1994 by Pete Lawrence and Katrina Larkin.
'Huge impact'
David Littlewood, general manager at Eastnor Castle, said the festival was "a very significant event - not just for us but for the whole of Herefordshire".
"I think [the loss of the festival] will be felt in Ledbury in local shops, businesses, coach companies and everyone else - they'll also feel the pinch," he said.
Mr Littlewood said the estate was trying to find an event to replace The Big Chill, but the current economic climate meant new festivals were not starting up at the moment.
Liz Hill, from Visit Herefordshire, the official tourism body for the county, said The Big Chill did have "a huge impact" as it brought fans to a national event with international names.
"These are difficult times anyway and any extra footfall is good for an area, so it will definitely affect Ledbury retailers," she said.
Miss Hill said their research has shown that the festival brought business to pubs and food retailers, and even benefitted charity shops where festival goers used to buy their clothes.
The first Big Chill festival was a one-day event held in London in 1994.
After that the event was staged in the Black Mountains in Wales, and in Dorset, before moving to the deer park at Eastnor Castle in 2002.
Artists who have appeared at the festival include Amy Winehouse, Goldfrapp, Norman Jay, Lily Allen and Massive Attack.
Festival Republic also organises festivals at Leeds, Reading, Hove and Berlin.