Rail price concern amidst extra Worcestershire train plans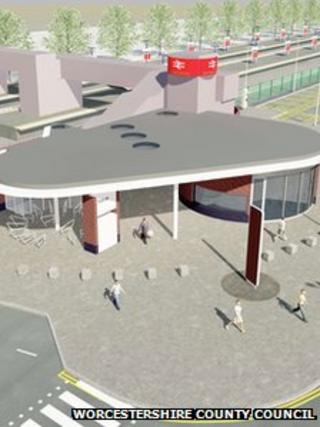 Businesses have expressed concern over the cost of train travel.
It comes as Network Rail confirms plans to spend £65m on increasing train services in north Worcestershire.
Bromsgrove Station will move and a new section of track built to run one extra service each hour between the town, Redditch and Birmingham New Street.
Herefordshire and Worcestershire Chamber of Commerce said easier access to Bromsgrove is positive but the cost of train travel was an issue.
Chief executive of the chamber Mike Ashton said: "It is clear that if the development reduces congestion and makes it easier to access the town this can only be good for businesses.
"However, the cost of train travel is a concern to our members at the moment."
'Satisfaction target'
Worcestershire County Council is running a public consultation over the proposed new Bromsgrove station in the Aston Fields area, about 100m from the current one.
Network Rail said the current station at Bromsgrove cannot be developed because there is no space and it is sited directly on the main line.
The new station, which will be developed by Centro, will be built on the site of an old freight depot.
The new section of track will allow trains to stop there without holding up other trains using the mainline, a spokesman said.
The southern end of the Cross City line between Barnt Green and Bromsgrove is being electrified, said Network Rail.
It is also building a section of line between Alvechurch and Redditch as well as a second platform and footbridge at Alvechurch station.
The firm is spending £550m in the West Midlands rail infrastructure between 2014 to 2019.
Anthony Smith, chief executive of Passenger Focus, said: "Improvements in satisfaction are welcome but we would like to see an earlier date for setting a satisfaction target.
"We are interested to see how all this will be paid for, passengers already put in roughly £2 for every pound spent by the taxpayer.
"It is critical the industry tackles its value-for-money offering, reducing costs without cutting services, to head off another five years of above-inflation fare increases."