Hagley housing plans could raise £10m for stately home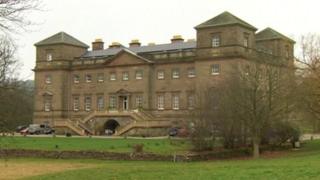 Plans to build 175 homes on land belonging to a stately home in Worcestershire have been approved despite opposition.
Lord Cobham, owner of Hagley Hall in Hagley, said the sale of the land could raise £10m to help maintain the estate.
Developer Cala Homes applied to build the homes between Stourbridge Road and Kidderminster Road.
About 350 people held a protest in September saying the village's infrastructure would not cope.
Lord Cobham said: "The sale is worth between £5m and £10m and if you inherit these sort of estates you tend to inherit historical debt.
"It's very good news from the point of view of the estate and I quite understand [campaigners'] opposition but there is an acute housing shortage and this is a patch that has been identified for a long time."
'Not Nimbyism'
More than 120 people attended the meeting held at Bromsgrove District Council on Monday.
Campaigner Jill Spillsbury said the group would continue to fight the plans which could ultimately mean a judicial review.
She said: "I felt total frustration with the whole process and this is not a Nimby response, it's a health concern about the air quality of the village and danger of increased traffic.
"We accept there needs to be building but what is more difficult is that Bromsgrove recognises the need to fulfil the housing shortage in a village that has got a finite size."
The decision had previously been put on hold in December following a legal objection from Hagley District Council.
Cala Homes had said the building work would be phased over four years so any population rise would be gradual.
It also said the new development would increase traffic at peak times in the village, which has a population of 5,600, by "less than 1%".