Dilwyn Primary reopens as free school against council wishes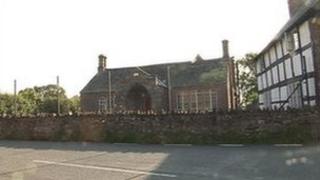 A school closed down by Herefordshire council has reopened with free school status in the face of criticism from the authority.
St Mary's CE Primary School, near Leominster, was closed in August 2011 and reopened as Dilwyn CE Primary in September 2011.
It was denied academy status then run by volunteers as a non-fee paying independent school until December.
Councillor Graham Powell said he was "disappointed" it had reopened.
'Financially unviable'
He said: "It is not in the best interests of the rest of the schools in Herefordshire, we have spare places at good and outstanding schools in the county.
"We worked very hard to find a solution for what was at the time a financially unviable school which closed with a deficit and we're entering the same loop again."
The school was awarded free school status, which means it is funded directly from central government, in July last year.
It has opened with 24 pupils and has been set a target of recruiting 27 pupils by September 2013 and 37 by September 2014.
Chair of governors and former head teacher John Gerrish said: "We were highly delighted to be given free school status as we've been fighting this battle for years.
"It's because of the efforts of the community and our determination not to let the school disappear after 165 years."
Mr Gerrish said the school had nine staff including five teachers who would now all be paid after 18 months of working voluntarily.