Severn Stoke church flood damage cost unknown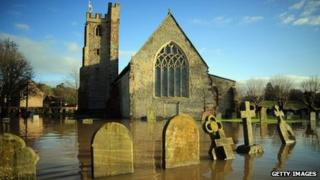 The extent of flood damage to a church in Worcestershire is yet to be fully assessed.
St Denys church, Severn Stoke, was hit by the December floods when the River Severn burst its banks following heavy rainfall across England and Wales.
The church had a narrow escape a month earlier when pews and the carpet were taken up but they were back in place when the flood water eventually hit.
The Reverend Mark Badger said they have a big task to calculate the cost.
The Rev Badger said: "Anything that was low lying has been damaged and probably needs replacing.
"The pews we won't know about really. It all depends how long they've been sat in the water and to what extent they've soaked it up.
"We're getting in there now to assess."
'Worship continues'
The nearby River Severn peaked at 5.2m (17ft) on Christmas Day with much of the village affected, including the Rose and Crown pub.
The Rev Badger said he was concerned for his congregation who had been directly affected.
"It's been a very sad time for them.
"Obviously all their Christmas preparations were disrupted by the November event.
"We rejoiced at getting back in and now we're out again.
"They will continue to worship. We have a small chapel in Kerswell Green which they will use as a congregation and join us at Kempsey for other things."