Droitwich Amateur Boxing Club to build new £200k gym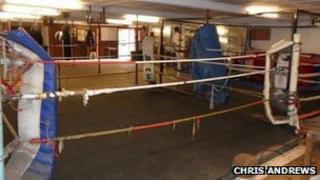 A Worcestershire boxing club has secured funding for a new £200,000 purpose-built facility.
Droitwich Amateur Boxing Club hopes to relocate its 200 members to the new gym close to its current Kidderminster Road home by the end of the summer.
A club spokesman said the decision to move from its 30-year-old base was because it had become run down.
Builders are expected to start work on the playing fields by the town's sports centre this month.
Club secretary Chris Andrews said the majority of the money for the new premises had come from an £80,000 grant from the Amateur Boxing Association of England, with £50,000 from Sport England.
Mr Andrews said: "We're still waiting for the final agreement that we can go ahead and build but we think we've got the money in place.
"Where we train at the moment it's very run down. We've got no separate changing rooms or accommodation.
"At the beginning we were told that the life expectancy would be around 20 years, so that's more than outlived its use. The new facilities would be state-of-the-art."