MP Harriett Baldwin in Tenbury Wells flood defence pledge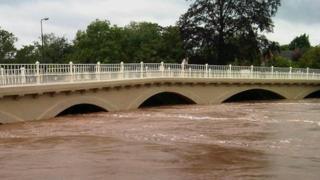 Funding is being sought to find a "permanent solution" for a flood-hit Worcestershire town, MP Harriett Baldwin has said.
The Conservative MP said she had asked the Department for Environment, Food and Rural Affairs to find flood defence funding for Tenbury Wells this month.
She was speaking in Upton-upon-Severn while visiting new flood defences with Environment Secretary Owen Paterson.
Tenbury has seen several devastating floods, particularly in July 2007.
The two politicians both praised Upton's new £4.5m flood defence scheme and the work of the Environment Agency.
'Flood summit'
Upton, next to the River Severn, has seen flooding 78 times since 1970, according to the agency. But it is now hoped the town will be protected by the permanent defences, unveiled in July.
Tenbury is hoping to receive about £5m from £120m funding for flood defences announced by the government in November, a spokesman for Ms Baldwin said.
Ms Baldwin said: "Upton's schemes have passed some rigorous testing over the last few weeks and I am told that savings delivered for insurers means that the investment has paid for itself twice over already."
The MP for West Worcestershire said almost £9m of flood defences had been introduced in her constituency in the past two years.
"All eyes now turn to Tenbury where we need to find a permanent solution and I have asked the department to look at ways we can find funding for this scheme in 2013 ahead of my flood summit at the end of this month," she added.