More Worcestershire flood warnings introduced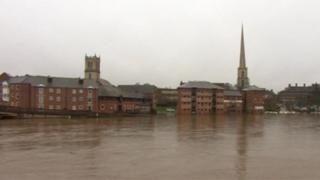 Five more flood warnings have been brought in on the River Severn in Worcestershire.
Thirteen apply in the area after warnings came in force at Hawford Wood, Holt Fleet, Northwood in Bewdley, Severn Bank Park and Stourport.
The Severn is expected to peak at Worcester and Bewdley on Thursday, an Environment Agency spokeswoman said.
Flood barriers have been taken down on the River Wye after it peaked on Tuesday morning in Hereford.
The barriers were removed following the peak, which happened at about 05:00 GMT in the city.
The Wye has no flood warnings in the Midlands.
Three of the warnings on the Severn in Worcestershire are in force at Upton-upon-Severn.
The others are in north and south Worcester and at Bevere, Callow End and Court Meadow, Kempsey, and at Clifton and Severn Stoke including Clevelode.
'Disheartening'
Environment Secretary Owen Paterson toured flood defences in Upton-upon-Severn on Wednesday.
He said some 20,000 homes across the country were now being protected by flood defence schemes.
Flood-hit businesses in Worcester called for better defences to be built in the city centre.
Browns Bar and Restaurant reopened on Friday after being flooded on Christmas Eve.
Manager Leon Barker said: "We had to cancel our bookings. It's been a disheartening few days pumping out water and cleaning up. We lost a lot of business.
"We took over Browns Bar in May. We've been flooded four times in that time."
The Environment Agency said the weather situation should generally improve over the next 10 days, although some light showers were still expected.
"We are monitoring the situation closely and aim to take the barriers down as soon as we can after the threat has passed, to minimise disruption for local communities," a spokeswoman said.