Flood defences go up in Hereford after rain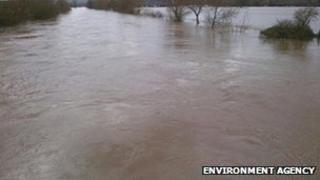 Flood defences are being put up in Hereford after water levels on the River Wye continued to rise.
The Environment Agency said they were going up as a precaution after heavy rain in Wales, where the river source is.
Flood warnings were placed on the Wye in Hereford on Sunday morning and a decision to put up the barriers was taken during the afternoon.
Warnings have also been placed on the River Severn for Worcester.
A spokeswoman for the Environment Agency said both the rivers Wye and Severn were responding to heavy rain.
"We're closely monitoring the Severn, Wye in Herefordshire and Vyrnwy catchments, where the heaviest rain fell yesterday, and is forecast later today," she said.
Rivers levels were expected to remain high for the next few days, she added.