Charity calls for more money for church repairs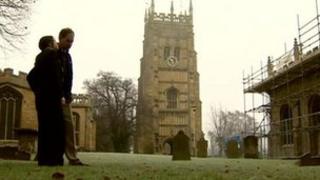 More money and volunteers are needed to help a national charity look after churches in the West Midlands, the Churches Conservation Trust says.
St Lawrence Church, in Evesham, is the latest to get repairs to its roof and windows after £200,000 funding from the trust.
Much of its funding comes from the government but public donations are also used.
The trust is currently fundraising for its next project in Worcester.
St Laurence Church, situated near Evesham's market place in the grounds of a former Benedictine Abbey, will shut to the public when work is under way, but residents will be invited in to see how it is progressing.
Falling numbers
Between April and September about 5,000 people visited it.
The work is expected to last until April when it will be reopened.
The trust took over the church in the 1970s when falling congregation numbers forced it to close.
Project manager Gabriella Misuriello said it had been in a state of disrepair.
"It needed reroofing and a high level of stone work repair and this is the last phase," she said.
The trust's next project is to fix the roof above the organ at St Swithin's church in Worcester, estimated to cost about £300,000.