River Severn levels in Worcestershire dropping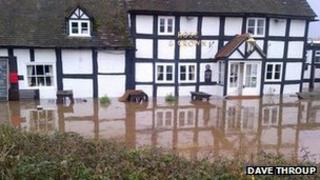 Water levels on the River Severn in Worcestershire are slowly dropping, the Environment Agency has said.
A number of flood warnings and alerts remain in place along the Severn and other rivers in the county and Herefordshire including the Wye.
The Severn near the flooded village of Severn Stoke was down to about 5m (16ft) having peaked at 5.2m (17ft) on Christmas Day, the agency said.
A spokesman said they expected levels to remain relatively high.
Chris Bainger from the Environment Agency said: "There's more rain forecast and we'll be keeping an eye on that because we could have a significant amount of rain in the Welsh mountains.
"That will come down to Worcestershire some 48 hours later so we'll keep an eye on that one and keep everyone updated.
"The Wye is one that is responding to the surface water and the rain that we've had and that keeps going up and down a lot faster than the Severn does."
'Pub church service'
St Denys church and the Rose and Crown pub in Severn Stoke have both flooded.
The Reverend Mark Badger said: "Someone made it in on Boxing day and there was four or five inches but I suspect it's gone down.
"Like everyone else we're just worried about what's coming down river in the next few days but we're more concerned about the people around.
"We will continue to function and may even use the pub if they're up and working before we are in the church but we will continue to have services.
"We had our carol service in the pub a few weeks ago when we thought that the flood was going to happen.
"We took up all the pews and the carpet but it didn't hit us then and we had a great evening in the pub."
Anna Higgins from the Safer Roads Partnership in Warwickshire and West Mercia has urged motorists to "exercise caution in adverse weather conditions".
Ms Higgins said: "Localised flooding still exists in many places across the region and the current forecast is predicting more of the same.
"The bad weather we have already had has shown just how quickly roads can become flooded and very dangerous.
"If your local area is experiencing flooding it's advisable to leave any non essential travel until it has subsided."