River levels could 'shoot back up again' warns agency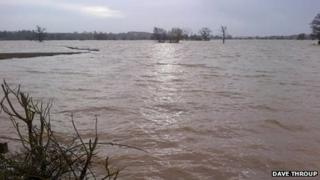 River levels in Worcestershire could "shoot back up again" as rain continues to fall, the Environment Agency (EA) has warned.
Almost 20 flood warnings are in force across Worcestershire, mainly on the River Severn.
Dave Throup, from the EA, tweeted that there were still "colossal amounts of water on the floodplain".
Temporary flood barriers have been put up to protect properties in Bewdley, according to the agency.
In the village of Severn Stoke the village church and pub have both been flooded.
Steve Watkins, a farmer in the village, said he is now sitting "on an island surrounded by water", with nearly 1,000 acres underwater.
"The water is about half a metre off the peak in July 2007, which was the highest since 1947," he said.
He said there are flood defences right against the River Severn, but these have been overtopped.
Roy Stokes, from the EA, said rain on Boxing Day would "top everything up again".
"The Severn is just full now - it peaked at a couple of places yesterday but the lower parts are still rising," he said
Water levels on the River Wye and the River Avon were on their way down but are going to "shoot back up again" he predicted.