Warnings in place as rivers rise in Herefordshire and Worcestershire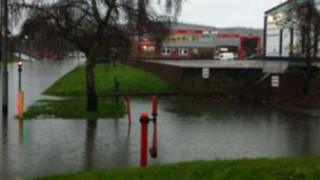 Flood warnings remain in place across Worcestershire and Herefordshire.
The Environment Agency said it was concerned about rising water levels on the River Severn in Worcester.
The river in that area is currently at its highest level since 2008 and was expected to peak on Monday evening or early on Tuesday.
Worcester's Hylton Road is closed because of flooding and people reported sewage coming up through the drains.
Flood warnings also remain in force for parts of the Avon and Teme.
Chris Bainger from the Environment Agency said the levels on the Severn were expected to remain high for the next few days, but most properties had been protected.
"I think overall in the whole River Severn catchment at the moment we have about three properties that have water in," he said.
"I think that's not bad, we've protected about 1,300 with the current flood defences that we have."
Some roads have been flooded and trains also affected by the weather conditions.
Danny Corns was among residents evacuated from their homes in Kempsey, Worcestershire, last month when flood defences failed.
He said the flood defences in the village were holding up so far and Environment Agency staff were on site.
A faulty sensor caused the failure of the £1.5m defences, leading to 15 homes flooding in the village, a report commissioned by the agency found.
It said the pumps would be operated manually by the agency's staff when flooding is possible until the problem was fixed.