Various flood warnings issued along Severn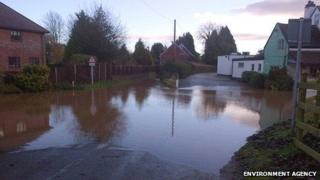 A number of flood warnings have been issued by the Environment Agency in Worcestershire after heavy rain.
The Severn has been at risk at various points including south Worcester, Hanley Road and Rectory Road at Upton-upon-Seven, Callow End and Kempsey, and Clifton and Severn Stoke.
Previous warnings in place for the Avon no longer apply.
In Herefordshire, staff at The Crown Inn at Lea said they were worried about how flood water would affect trade.
Callum Richardson, from the pub, said: "We're holding fire at the moment but we've got plans to move everything out of the cellar if it rains again.
"Our main concern is the loss of customers. It was dead on Thursday and we really suffered during the last lot of flooding in November.
"We're worried if it happens again over Christmas it will really damage us."
He said about 10 people worked at the pub.
'Defences working well'
Mr Richardson also said it was "unacceptable" that drains in the area, which should have been unblocked by the county council, were still overflowing with water.
On Thursday, Herefordshire Council said its contractors Amey had delivered more than 100 sandbags in the Lea area and that high-pressure jetting drain clearance was scheduled to take place "in the next 24 hours".
The Environment Agency said £1.7m defences in Kempsey were working well and engineers were on site around the clock.
The system was disabled by a waterlogged sensor after heavy rain last month, leading to a number of homes having to be evacuated.
Hereford and Worcester Fire and Rescue Service rescued two people from separate cars after they became stuck in fast-flowing water in Little Hereford on Thursday night.
A spokeswoman for the service said boat crews helped to rescue the people with a sled when they were called to the village at 20:22 GMT.
Flood gates at New Street in Upton-upon-Severn were closed on Thursday.
Dave Throup, from the Environment Agency, said the barriers which had gone up at Severnside North in Bewdley could be there until Christmas. Mr Throup said the weather situation was improving but some people would be flooded.
He said: "We're now looking at two main bands of rain, rather than the previous three bands of rain we were expecting.
"The only fly in the ointment is the rain on Saturday, which could be intense as well as heavy and which could well cause localised problems of flash flooding."
A number of roads in Worcestershire were closed due to flood water, including Eckington Bridge and Jubilee Bridge at Fladbury.
Worcester City Council said Pitchcroft car park was closed due to flooding.
Some roads in Herefordshire were also affected.
The River Severn is expected to peak in Worcester on Saturday afternoon.