Dairy farmers blockade Droitwich Muller Wiseman factory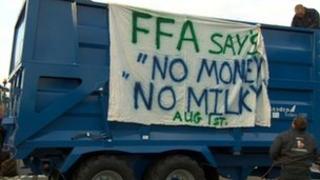 Dozens of dairy farmers blockaded a factory in Worcestershire as part of a campaign for a better deal on the price they are paid for milk.
They demonstrated at Muller Wiseman Dairies in Droitwich Spa on Wednesday.
David Handley, chairman of Farmers For Action who organised the blockade, said: "We have been loud and clear, farmers are not receiving the money."
A spokesman for Müller Wiseman Dairies said it was "extremely frustrated" by the protest.
He added: "We have a constructive relationship with dairy farmers who are elected to represent those who supply the company.
"We are therefore extremely frustrated to be targeted by 30 people from the militant Farmers for Action group, most of whom have no connection whatsoever with our company, and some of whom do not even own dairy herds."
Escalating costs
Muller, which owns Robert Wiseman dairies, agreed to increase the price to 29p per litre in September.
In July, farmers and the processing firms they supply agreed on the broad principles of a deal in their dispute over milk prices.
The draft agreement related to a voluntary code of practice designed to give farmers more bargaining power.
Mr Handley said: "Negotiations have broken down and we have every intention of protesting again before Christmas.
"Farmers are not receiving the money to cover the bills and costs are escalating."
He said the group had staged protests in Manchester, Derbyshire and Leicestershire in the last fortnight.
Tim Brooks, a farmer from Leominster in Herefordshire who took part in the protest, said: "We haven't got the price we want, we are fighting for a fairer price."