Worcestershire flood defences up as heavy rain forecast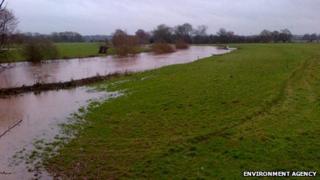 Flood defences have been going up in Worcestershire after heavy rain and rising river levels.
Dave Throup from the Environment Agency said the flood gates at New Street in Upton upon Severn had been closed and levels were rising on the rivers Severn and Avon.
He also said barriers which went up at Severnside North in Bewdley by 18:00 GMT could be there until Christmas.
The agency has issued a flood warning for the River Teme at Stanford Bridge.
The Met Office has issued a yellow weather warning.
Mr Throup said there had been an inch (30mm) of rain across the area with "up to another inch to come".
A spokesperson from Hereford and Worcester Fire and Rescue Service said they had attended a "small cluster of flood-related incidents" in Lea, Herefordshire.
Christmas concerns
Callum Richardson from The Crown Inn at Lea, near Ross-on-Wye, said staff were working to clear the cellar.
He said: "Our main fear is if this carries on we'll lose out over Christmas, we had about £3,000 worth of damage last month."
Belinda Marshall de Silver, another Lea resident said she was pumping water away from her home.
She said: "I've got a very frightened little boy here, last month we were very badly hit and suffered around £5,000 worth of damage - I haven't worked out the exact cost yet.
"It damaged the carpet, curtains and a few personal belongings, I've got family coming to stay at Christmas so it is a concern."
Herefordshire Council said that its contractors, Amey, had delivered over 100 sandbags in the Lea area and that high-pressure jetting drain clearance has been scheduled to take place "in the next 24 hours".
"The already heavily saturated ground and the run-off of silt and mud has created challenges and while we strive to alleviate the risk of flooding, the risk cannot always be removed entirely," a spokesperson said.
The council said additional sandbags can be collected from their depot in Ross-on-Wye.
Scott Wheeler, manager at The Mug House and Angry Chef in Bewdley, said: "We're never worried when the barriers go up, if anything they're good for business as they attract people to the town.
"We're right on the river so visitors often pop in for lunch or coffee so in many ways it helps us."
Hereford and Worcester Fire and Rescue Service said there was a lot of water on the roads and advised motorists to take extra care when driving.
Worcestershire County Council said roads in North Littleton and South Littleton near Evesham were closed.
They were also installing pumps on Hylton Road in Worcester to deal with any water coming out of the drains.
Defences built after the floods of 2007 already protect the road from the River Severn.
Some minor roads in Herefordshire have also been affected by flooding, the county council said.
The authority said in the event of flooding sandbags were available from parish councils and various depots.
The EA said engineers would be on site in Kempsey where £1.7m flood defences were disabled by a waterlogged sensor after heavy rain last month.
A number of homes in the village had to be evacuated.