Horse rescued from Kidderminster swimming pool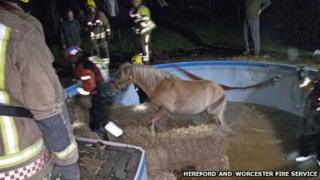 Firefighters were called to help rescue a horse after it fell into a swimming pool.
The horse, called Freya, became stuck in 4ft-high water in the pool in a garden of a property in Far Forest, Kidderminster, Worcestershire, on Monday afternoon.
Fire crews pumped water from the pool and then built a set of steps out of straw bales so the horse was able to get out.
The horse was rescued uninjured.