Kempsey flood defence failure due to waterlogged sensor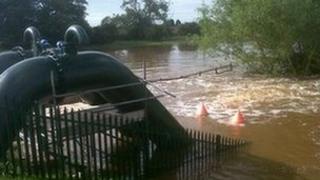 A faulty sensor caused the failure of £1.5m flood defences, leading to 15 homes flooding in a Worcestershire village, a report has found.
Two pumps designed to start automatically during flooding failed to activate in Kempsey in the early hours of 25 November.
The sensor had become waterlogged during heavy rainfall, the Environment Agency-commissioned report found.
Kempsey's defences were only completed earlier this year.
20-year campaign
Officially unveiled in July, the flood defence pumps are part of a project that included earth embankments and a series of sluice gates.
They were tested successfully during floods in the summer.
It followed a 20-year campaign by villagers, who set up the Kempsey Flood Action Group in 2009.
About 30 houses in the Worcestershire village were evacuated during the early hours of 25 November.
About 60 caravans in Kempsey were flooded, the fire service said. But the Environment Agency said the caravans, which are on breeze blocks on the bank of the River Severn, were not covered by the scheme.
An independent investigation was commissioned by the EA after the failure of the flood defences.
The agency said now it knew what the problem was, it would be working to fix it.
'Dry' future
The pumps, which are working, will be operated manually by EA staff throughout the winter when flooding is possible.
"We will ensure the faults are rectified as soon as possible so the pumping station operates automatically as it is designed to," the EA said.
Anthony Perry, West Midlands flood risk manager for the agency, said: "We are very sorry that the pumping station did not operate as intended in Kempsey, especially as it had operated successfully twice this year.
"Our thoughts go out to the residents affected.
"We will continue to be in Kempsey to switch on the pumps at times of flood until the faults are fixed, and will work with the local community to regain their trust in this scheme."
Danny Corns, who lives in one of the 15 flooded houses, said it was "reassuring to a point" to learn it was a sensor that had failed rather than the pumps themselves.
"It doesn't alter the fact that it's happened and we are dealing with it but the good thing for the future is the future looks bright and rosy and hopefully dry," he said.