Kempsey floods: Vicar lends house to family for Christmas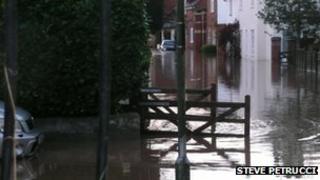 A family forced to move after flood defences in a Worcestershire village failed have been given a home over Christmas by the local vicar.
The Crosby family had to leave their rented house after pumps failed on the Kempsey flood defences.
The vicar of Kempsey, the Reverend Mark Badger, took his house in Worcester off the market and has given it to the family to stay in.
Malcolm Crosby said the offer was "very generous and really unexpected".
He said his family would now have "a bit of stability before Christmas".
Empty house
"It's amazing that the kids have got somewhere to put up a tree and open their presents," he said.
The couple have a three-week-old girl and a two-year-old daughter.
Mr Badger said: "We were moving to the new rectory in Kempsey and we heard about a young family who were flooded and were looking for somewhere to live.
"We had a house that was going to be empty in a week and so we offered it."
Rachel Crosby said builders were already stripping the floors out of the house they were renting in Kempsey.
"It could be anything up to six months before we get back into the house," she said.
The Kempsey flood defence pumps were officially unveiled in July, as part of a £1.5m project that included earth embankments and a series of sluice gates.
About 30 houses in the village were evacuated in the early hours of Sunday, 25 November after heavy rain led to flooding.